When you receive a qualification or certification it is vital that you keep your records organised, but also in a format which is quickly accessible and easily carried about. This is where your IPAF Card and PASMA Card comes into play.
By holding training photo cards and certificates of competence you can instantly show your record of training. There is a common attitude towards record keeping and paperwork; that it can be tedious and messy – however anyone with the training and experience should be able to securely, efficiently and effectively show proof of their skills.
If you've got the card, you've got the job.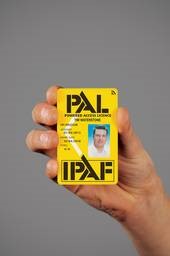 What is the PAL/IPAF Card?
The IPAF Card or PAL (Powered Access License) is recognised as worldwide proof of platform operator training to the highest standard. They are issued by the International Powered Access Federation (IPAF) to platform operators who successfully complete their training.
When Do You Receive an IPAF Card?
The PAL Card or IPAF Card is received upon successful completion of IPAF training, along with a certificate, safety guide and a log book.
How Long is It Valid For?
The IPAF Card is valid for 5 years which makes it especially useful. It features a photograph of the trained individual. It can be verified by calling IPAF themselves.
Who Needs a PAL/IPAF Card?
Anyone who works at height and uses access equipment should invest in the appropriate training and an IPAF Card.
Do You NEED an IPAF Card?
While it is not essential to hold an IPAF Card itself, it is a legal requirement to have training.
Height workers will NEED to show that they have been trained appropriately. If they can't show proof they won't be allowed on the site.
What Does the Card Show?
The card lasts for 5 years and shows the date on which the holder was assessed and the expiry date by which the holder would need to retrain. It also shows the type of equipment that you are trained to operate and the level of which you have been trained to, e.g. operator, instructor or demonstrator. It has security features such as a holographic logo, photograph and signature.
How Can You Make Sure That the IPAF Card is Genuine?
While the security of the card is of extremely high quality due to its many factors, site and safety managers who want to make 110% sure can verify. They can use the PAL Card Online Verification Tool to check if a card is real. If in doubt you can also contact your nearest IPAF hotline.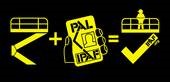 Where Is the Card Accepted?
The PAL/IPAF Card is accepted and recognised in numerous countries worldwide and is evidence you are proficient as a platform operator. By holding your card, you are showing that you have been trained to an international standard. It conforms to the international standard ISO 18878:2004 which is an international key standard certified by TUV.
Some examples include Scaffold & Access Industry Association in the USA and Assodimi in Italy. While you can use your PAL Card abroad you must always make sure to comply with the legislation of the country. If you are uncertain of what exact countries you can use it in, you should contact the IPAF Head office in the UK.
How Can You Get an IPAF Card?
Training is not provided by IPAF themselves, however are carried out by IPAF-approved training centres such as Boss Training. They are regularly audited by IPAF to make sure the standards are up to date. Take a look at all of Boss Training's courses or alternatively get in touch to find out more.
What is a Smart PAL/IPAF Card?
A Smart IPAF Card looks the same as the standard version, however the data is stored on the card. The card is also marked by a wireless icon and has a chip embedded in it. The card needs to be read by the appropriate machine to access the data. No personal data is contained in the card. The Smart IPAF Card allows control of access, therefore, can improve site safety.
How Can I Find Out More About IPAF Training Courses?
Learn more about what is included by taking a look at our IPAF training course page.
You may also wish to see other frequently asked questions about IPAF such as "What is the legal requirement for training in Europe?"

Is a PASMA Card Different from an IPAF Card?
A PASMA Card holds similar information to the IPAF Card. This data includes the holder of the training photocard, the category of training they have carried out, the level they are trained to, and who they were trained by.
Is the PASMA Card Secure?
There are many security factors on the PASMA Cards such as a holographic image, hatched lines, UV Link and guilloche engraved text, which is used commonly on bank notes to protect against forged copies.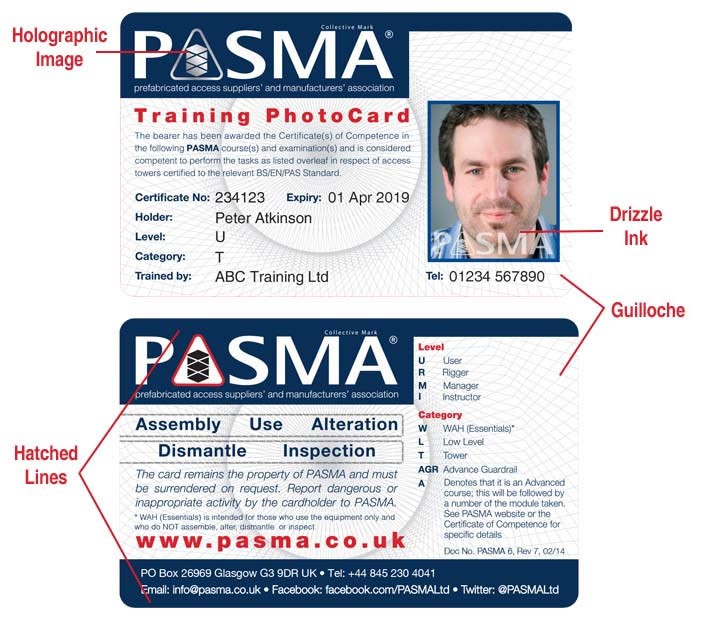 Can Boss Training Issue PASMA Cards?
Boss Training is an authorised member of PASMA, therefore, are able to issue PASMA training photo cards and certificates. Only PASMA training centres are able to deliver the accredited courses and issue the certificates and photo ID Cards.
Who Needs a PASMA Card?
If you are using any item of work at height equipment in the workplace using a scaffold tower, then the Work at Height Regulations apply to you. Through PASMA training and becoming a PASMA Card holder, you can ensure that you are competent to use and supervise or manage the use of a tower.
Find out more about the Work at Height Regulations.
You can also see PASMA related FAQ's and PASMA Card FAQ's.
Boss Training is at the forefront of PASMA and IPAF Training in the UK and as official training members of IPAF and PASMA, we can deliver several types of courses. If you need any more information about PASMA or IPAF Cards we would be happy to provide it. Get in touch today to discuss your requirements.
We look forward to making you the proud owner of an IPAF or PASMA Card.
Don't forget: If you've got the card, you've got the job.