June will mark a rather significant change to IPAF training courses by introducing their new ePAL card application. This online process will replace the certificates, and cards delegates currently receive after attending a course.
With the upcoming launch of IPAF's new ePAL app, we have put together everything you need to know about how this change will affect you, your businesses and the industry.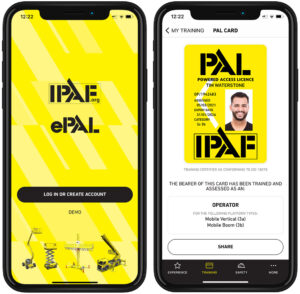 What is the IPAF ePAL App?
The ePAL app will allow you to access a digital wallet where your IPAF licenses and qualifications will be stored.
It also provides you with a digital logbook to easily record operating experience, license renewal alerts, the ability to report a powered-access near miss or accident and best practice tips, faqs and safety guides.
If you'd like to be updated on the app launch date, please subscribe to the IPAF newsletter.
What does this mean for those attending the course?
Traditionally when you attend an IPAF course, you would receive your PAL card and certificate in the post.
Now, when booking a course, you will be asked to download the ePAL app onto your mobile device before your course starts. It will be available as a free download on all Apple and Android devices.
The app comes with some great features and means you will no longer have to pay for replacement cards or certificates as they will be available to download at all times.
If you require hard copies of qualifications, this will still be an option, but there will be an additional fee.
We have provided a short step by step guide for what you will need to do to receive your ePAL certification.
Delegates taking an IPAF training course will now have to follow the below:
Step 1: Download ePAL from the Apple Store or Google Play
Step 2: Sign up for an IPAF ID or log in if you have already created one
Step 3: Provide the training centre with your email, mobile or IPAF ID number
Step 4: The training centre will link your IPAF ID to your license, which will show in ePAL
If you have already completed your IPAF training and want to use the ePAL app:
Step 1: Download ePAL from the Apple Store or Google Play
Step 2: Sign up for an IPAF ID or log in if you have already created one
Step 3: Add your existing license by entering your license number or scan your PAL card
Step 4: your digital license will now show in ePAL
What does this mean for businesses?
The ePAL app will give businesses faster processing times. Currently, you can expect to receive IPAF certificates within 2 – 4 weeks due to postage times. These timescales will be significantly reduced as IPAF qualifications can be uploaded directly to your employee's app. 
This online method gives you the added benefit of saving administration time, scanning or uploading digital copies to your system and forwarding the certificates to your delegates.
You will receive a notification confirming the delegates have received their certificates so that you can keep track of your training. Copies of certificates can also be emailed through to a central point for administrative ease.
What does this mean for the industry?
IPAF has made the innovative decision to transform its certification into a digital copy, which creates sustainable change for the environment. This change may lead the way in the construction industry, and we may see other companies and accreditations following suit in the coming months/years.
We believe the introduction of the app and online certification is a positive move. However, there are some concerns for those who struggle with technology. The traditional hard copies of certificates and course materials will still be available, so everyone should feel comfortable accessing all documents.
Here at Boss Training, we see this as a big step in the right direction for future-proofing the health and safety industry. We look forward to IPAF's ePAL launch in June.
If you have any questions on our IPAF training or any other courses, please contact us on any of the below.
Call: 01422 358184
Email: enquiries@bosstraining.co.uk 
Or use our websites live chat.